FEBRUARY 2015: Mannheimer Morgen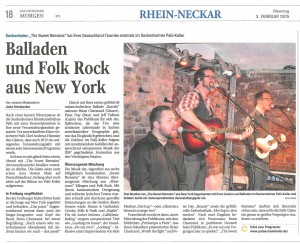 ---
JUNE 2015: azculture.com
Check out the great review of "Live at the MIM Theater" on azculture.com!
---
OCTOBER 2014: "[Chartrand's] brilliant combination of folk and Americana, with a touch of Southern rock, country and jazz, creates some of the sweetest sounds around."
Susan Lanier-Graham
UPTOWN MAGAZINE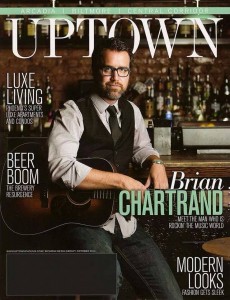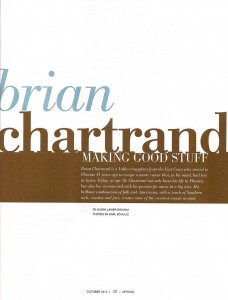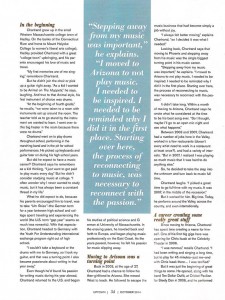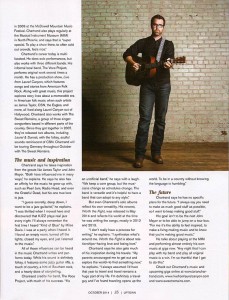 ---
SEPT 2014: "Brian Chartrand is certainly one of the Valley's most prolific singer-songwriters, having released 11 albums, most recently his 14-song disc, Worth the Fight."   Read the full article here.
Nicki Escudero
PHOENIX NEW TIMES
---
AUG 2014: "In one week, Brian Chartrand has more than done his bit to remind you, the gentle listening public, that the notion of a singer-songwriter sharing pieces of his land and maybe shards of other people's lands through song is alive and well in Phoenix."  Read the full article here.
Serene Dominic
THE ARIZONA REPUBLIC
---
JULY 2014: "I've had the pleasure of working with the very talented Brian Chartrand, an artist who puts no limit on the effort he might spend learning to understand and develop his craft.  He's talented, humble, dedicated and really connected to his work emotionally.  He's one of those artists where you don't need to hear the record before you buy it, you know you're going to be more than satisfied."
Otto D'Agnolo
President, Donyolo Media Corp.
Owner, Chaton Studios
---
JUNE 2014: "Brian Chartrand's songs continue to impress.  Along with a team of the best musicians around, Chartrand adds unexpected shifts in melody and key to create deeply powerful songs that are challenging and yet comfortable, like your favorite pair of jeans.  I love his approach to songwriting, which seems effortless and sounds highly unique.  He is carving his own path- in a sea of great songwriters, he shines."
Kimber Lanning
Owner, Stinkweeds
---
MAY 2014: "Looking at local musician Brian Chartrand's musical biography, you might say he has an identity crisis." Read the entire article here.
Jason Keil
PHOENIX NEW TIMES
---
PRESS for "The Voce Project"
"Your CD 'The Voce Project' is outstanding in every way: songwriting, execution, sonically, and packaging."
Bob Corritore
"Those Low Down Blues" KJZZ and owner of Rhythm Room
"With 'The Voce Project' Brian Chartrand clearly defines his place among modern American songwriters like Ray LaMontagne and Ben Harper while clearly carving out a place all his own… a highly captivating record with outstanding production and the kind of diversity that makes a record last."
Kimber Lanning
Owner, Stinkweeds
---
PRESS for "Sleeping With Giants"
"Listeners may be reminded of Nick Drake's deep plucking style by the opening track, "Sweetly, Gently," wherein listeners can actually hear Chartrand's hands sliding across the strings in chord changes. Vocally, Chartrand sounds like a cross between Dave Matthews and Radiohead's Thom Yorke, and his folky, winsome tenor blends nicely with the pastoral-sounding string solo and flute float-out that ends the song." Read the full article here.
Niki D'Andrea
PHOENIX NEW TIMES